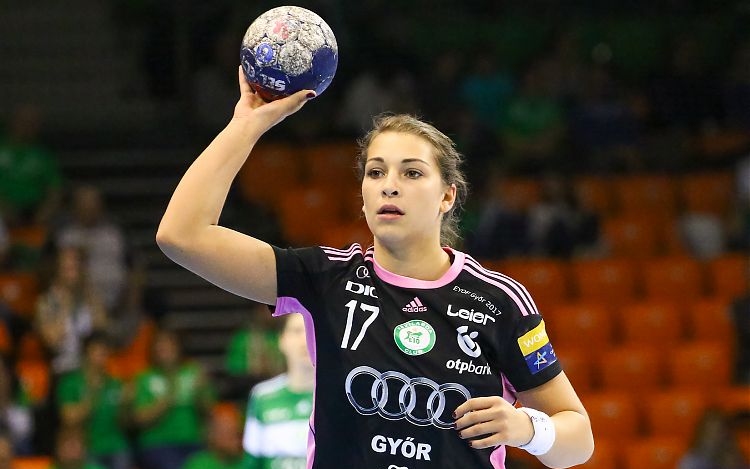 Rita Lakatos is not afraid of Norway!
Rita Lakatos moves to Norway in the summer to belong to Byasen Trondheim Handball Club for the next two years.
I HAVE EXPERIENCED HOW WELL-TRAINED PHYSICALLY THE NORWEGIANS ARE – Why especially Norway?
Since I have signed the loan agreement, I've been really excited and looking forward to this new Norwegian challenge, since a huge childhood-dream comes true! However currently I've been still focusing on the actual season because there are still goals to reach with Vác, so I need to do my best. The concrete idea of continuing my career in Norway first came up, when I had the chance training together with the Norwegian players in Győr, so I could personally experience their different mentality and well-trained physical condition. Also, when we played against the Norwegian junior national team in Norway, we could feel how the same-aged players are in a much better physical shape. I would like to reach their level and I am also very curious how I could learn the typical Norwegian style of fast play which I'm desired to adapt. The Norwegian handball doesn't need to be introduced to anyone as the country is the leader in the World in this sport. I think this is such an opportunity which if I missed I might never be able to forgive to myself. Since I started this sport, I've been taught only one and the same system of playing handball, so it is time to learn something different. I'm aware that it won't be an easy mission as I'm going to enter alone into a new culture and a foreign language environment – these are goanna be a huge challenge both in sportive and private life perspectives. However, I'm a person who can easily adapt to a new environment and situations, moreover I do believe that such opportunities could give enormous self-confidence and faith that can not ever be taken by anyone.
THIS SHOULD BE KNOWN ABOUT BYASEN – IT'S JUST LIKE VÁC
Byasen has finally decided to sign me when they watched me in action in live against the NOR junior national team in Norway, however I was told that they have seen several of my previous matches with Vác via internet. The fact that Byasen is regularly involved in international cups also affected my decision in a positive way. Furthermore, there are many young talents in the squad like me, since the Club focuses on young-players' development with a high care. Such an inspiring community could only stimulate my continuous development. This can be told about Vác as well, because due to the well-harmonized moral and supportive environment we do not even feel any pressure during games. This can be also thanked to the more experienced Brazilian players as well who takes away a huge weight from the young athlete's shoulders. When it comes to Byasen, it is also a huge advantage of the Club that it has a multifunctional training centre where athletes can specifically develop their physical conditions. Due to my previous injuries it's for sure I'm goanna buy a season ticket there.
😊
I had some difficulties with my tibia and shoulder caused by excessive and inappropriate training loads but I'm already totally healthy without having any problem by today.
GOALS, VISION, CHALLENGES
As I'm the player of Győri AUDI ETO KC, I have it always in my mind to return one day. Right now, it seems far away, however know one knows what the future could bring, so it's better focusing on the actual season. I'm quite glad getting continuous opportunity to play both in defence and attack. Moreover, to be honest sometimes I prefer playing defence even more. I think we are having a fairly good season, where the lost games mostly depended on the lack of routine during the last minutes due to the young squad. After finishing the long and tough season, the U20 World Championship just starts in Debrecen. I do expect a shining result at the end, especially that we have an excellent age-group where many players have been playing in the first league already (NB I). When it comes to my future career, it inspired me a lot that recently I had the chance to train together with the adult national team. Kim Rasmussen, the head-coach of the Hungarian National Team also supported me in my decision of continuing my career in Norway. I was told that he admires my courage of starting this adventure all alone and in such a young age. I told him as well that I'm not afraid of the new, and I'm looking forward of the challenges.
Thank you for your attention!